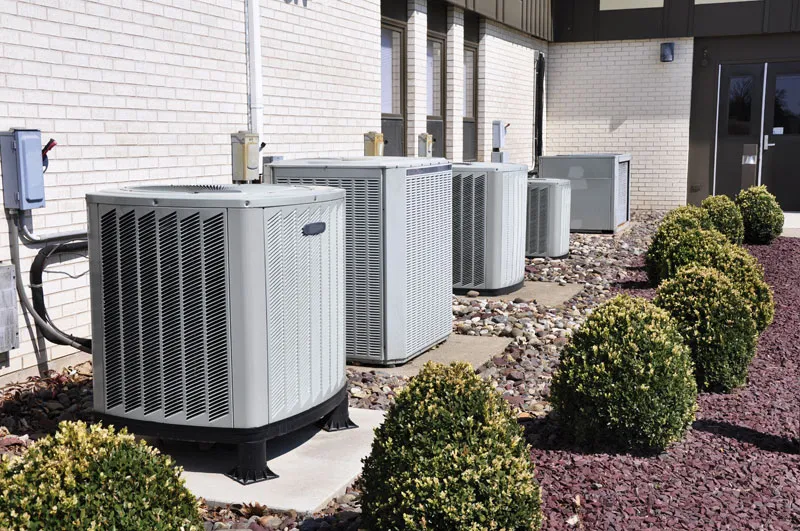 In ducted evaporative air conditioning systems, water functions as the cooling agent that evaporates. The warm air from the outside is sucked into the cooling unit by the fan on the inside, and when it passes over the pads that have been soaked in water, it is cooled by evaporation. After that, the cooled air is dispersed around the rest of the home using Flexible Ducting and outlets, which are made possible by the strong fan. When you let the hot air in the house out by opening the windows and doors, it is replaced by new air that is cooler in temperature. Evaporative coolers are quite effective when used in areas that are hot and dry, but they are not efficient enough to be utilised in climates that are humid.
If you're thinking of purchasing a new air conditioning system for your space, you may go for split system air conditioning installation or learn about evaporative air conditioning when you read on below.
How Does Ducted Evaporative Air Conditioning Work?
The ducted evaporative air conditioning works by drawing hot air into it and passing it through a series of wet filter pads, each of which is supplied with water by a tank located in the unit's base. The air is cooled and made more humid as a result of the water evaporating from the filter pads. Air that has been humidified and chilled is circulated throughout the entire residence.
The temperature of the air inside a building can be lowered by using an evaporative cooler, which also produces wind, which has the same cooling effect. Ducted evaporative air conditioning is most effective in arid, warm areas, and they need specific windows and doors to be kept open in order for the cooled, moist air to be able to escape the building.
Even though it is true that evaporative coolers, due to the fact that they are open systems, constantly circulate cool air throughout a home, there are also some drawbacks to using one when the weather isn't ideal. An evaporative cooler has the potential to make indoor air quality worse when there is a nearby wildfire, controlled burn, or high pollen count. This is because an evaporative cooler sucks in the harmful smoke, dust, and pollen that is found outside.
It is necessary to weatherise ducted evaporative systems in order to prevent warm air from escaping through the vents and ducts in the ceiling as well as the cooling unit that is located on the roof during the winter.
Which Air Conditioning System Should You Choose?
Ducted evaporative air conditioning employs ductwork that is attached to a rooftop unit so that the cooled air may be distributed throughout the entire home. On the market, you can choose between a regular model and an inverter model of this item. Those versions of the product that do not have variable speed motors (inverters) have lower overall energy efficiency.
You can install evaporative coolers in windows or position them on walls, or you can take them with you and use them to cool specific hot places everywhere you go. Because they have such a low capacity for cooling, these systems have a low initial cost, but they have a high cost of operation. Lastly, an option is to go for a split system air conditioning installation.
Advantages of Choosing Ducted Evaporative Air Conditioning
Ducted evaporative air conditioning has several advantages, and now is the perfect time to get one because they are inexpensive to run and maintain while providing excellent cooling. Evaporative air conditioning has a substantial and growing advantage over the reverse cycle in terms of energy efficiency, healthier airflow, performance, and quality of life in Australia, where summers are notoriously hot and humid.
Cleaner Air Indoors
There is nothing worse than being trapped indoors during hot weather, forced to breathe in stale air for long periods of time. Ducted evaporative air conditioning provides 100% fresh, cool outside air at a lower cost per cooling degree than its refrigerated counterpart. Evaporative air conditioners use cooling pads and a fan to cool and purify the air as it pulls in outside air. This is especially helpful for people who suffer from allergies.
Environmental Friendly
It not only consumes chemicals that are harmful to the environment, but it also dries out the air within the home. Evaporative cooling, on the other hand, uses water to cool the air without any added chemicals naturally.
When compared to traditional central air conditioning systems, evaporative coolers provide a more comfortable indoor environment by never re-circulating the air and instead continuously replacing it with new air.
Low-Effort Upkeep
The best way to keep your evaporative cooling costs down and your unit operating at optimal efficiency is to have it serviced on a regular basis by a trained professional. An extensive dealer and service agent network across Australia makes scheduling an evaporative conditioning service quick, painless, and straightforward.
One of the many great things about ducted evaporative air conditioning is how much control you get. Some ducted systems allow you to set the temperature in each individual room, while others can cool the entire house. You can save money on your utility bills by turning off the zones when they are not in use.