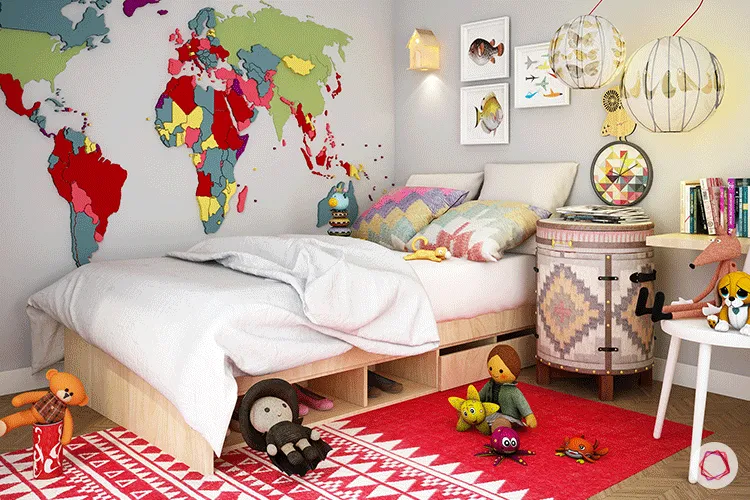 A fun addition to your child's room is a wall-hung artwork. These pieces can be anything from a small abstract design to a large abstract print. You can keep the rest of the room neutral to give the prints room to breathe. You can also incorporate a number of fun play items like a rope swing or a monkey bar.
If your child has a lot of toys, a high sleeper can be used to hide them. It also doubles the amount of space in the room, making it a convenient reading nook or lounge area. Kids have so much stuff, so you'll want to find creative ways to corral all of it. Consider adding wall-hugging book rails and under-bed storage crates, and look for furniture with built-in storage.
Books are an essential part of a kid's room. Bookcases are great storage options, and should be an integral part of the design. They can be placed near the desk or near the bed. You can also incorporate nature-themed decor into the room, since it will help your kid feel closer to nature.
Kids' rooms can be made to look spacious and airy by using a light-coloured scheme. You can also choose carpets for the floor, which will add a natural feeling to your kids room. If you do not want to use carpets, you can opt for a rug that covers bare floorboards.
You can also use a window seat to create a cosy chilling area. You can place pillows and cushions to make it look cozy. You can also place multiple types of lighting in your child's room. For example, a reading light can be useful at night. Another option is to have your child help paint their own furniture. You can have him or her sign the furniture, or even paint a polka-dot design on it.
Whether you want to decorate your kid's bedroom in a classic or modern style, you can find a variety of different design ideas online. Try to choose a theme based on your child's interests. For instance, if your child likes to read books, they can have their own reading corner.
Bedding is another essential part of your kid's room. The right colors and fabric can make or break the room's overall look. While it's important to choose colorful bedding, make sure you choose durable bedding that is easy to wash. You can use a number of colorful pillows or throws for visual texture. Another helpful tip is to use different types of fabric in your white bedding. This will prevent the hues from blending together and create visual interest.
Storage is an important component of any room, but it is especially important in a child's room. Children collect a lot of stuff and need a place to put it. Installing storage containers and shelves in your child's room will help you prevent the room from becoming cluttered and unorganized.